When it comes to setting up an office space, the importance of choosing the right furniture cannot be overstated. The right office furniture not only enhances the aesthetics of your workspace but also contributes to the productivity and well-being of your employees. In this comprehensive guide, we will explore the best office furniture in Dubai, covering everything from designer furniture to budget-friendly options. So, let's dive in!
1. Casanova Furniture Dubai: Luxury Meets Functionality
Casanova Furniture is a renowned name in the world of luxury furniture in Dubai. With a vast collection of high-quality office furniture, Casanova offers a perfect blend of style, comfort, and functionality. Their range includes executive desks, ergonomic chairs, conference tables, and storage solutions, all designed to create a sophisticated and productive work environment. The attention to detail and use of premium materials make Casanova Furniture a top choice for those looking for the best office furniture in Dubai.
Moreover, Casanova Furniture also offers customized solutions to cater to the unique requirements of your office space. Their team of experts will work closely with you to understand your needs and create a tailor-made furniture plan that reflects your brand's identity and values.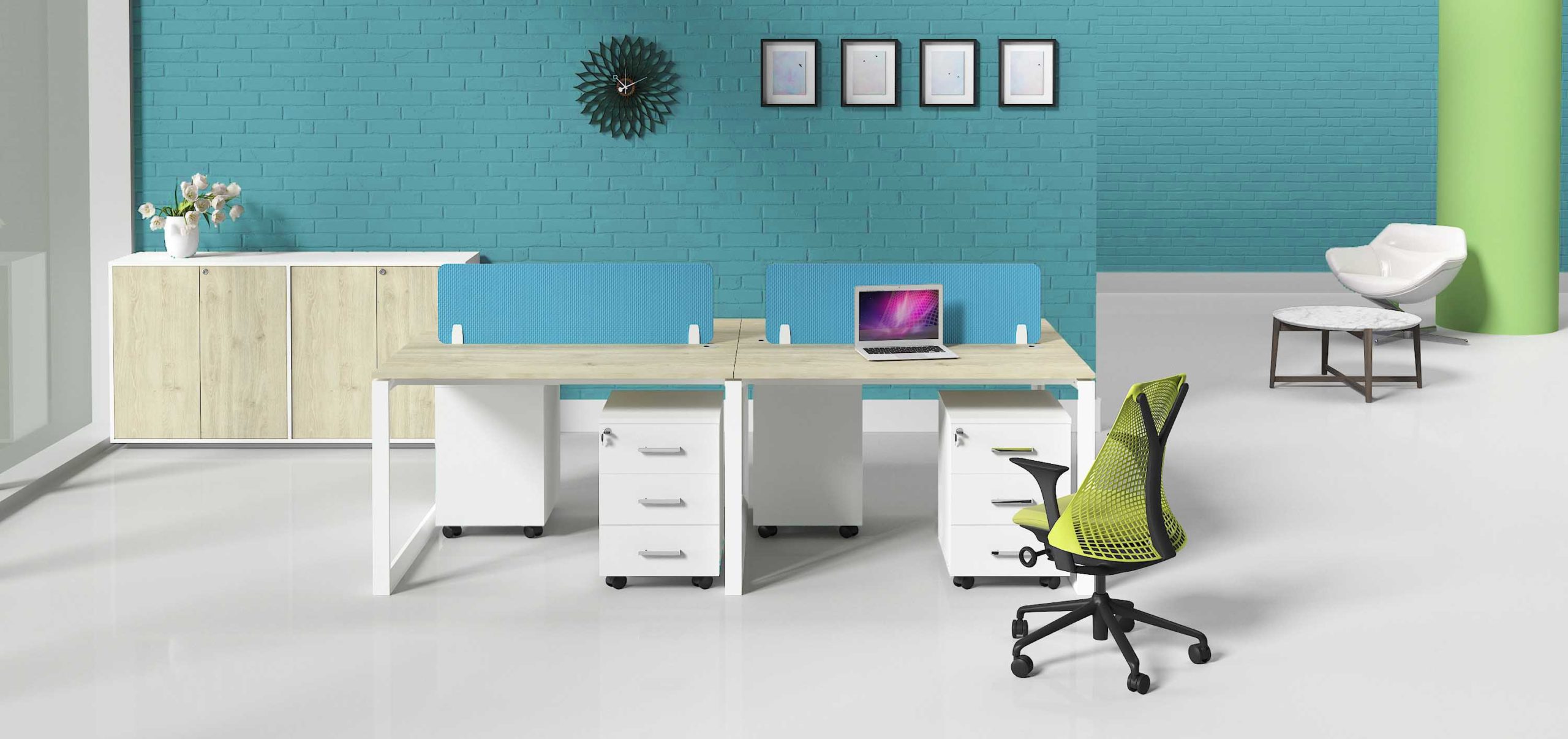 2. The One Furniture Dubai: Affordable Elegance
The One is a popular furniture store in Dubai, known for its stylish and affordable range of office furniture. Their collection includes a variety of desks, chairs, storage units, and accessories that cater to different budgets and preferences. The One Furniture Dubai is an excellent choice for those looking for high-quality office furniture without breaking the bank.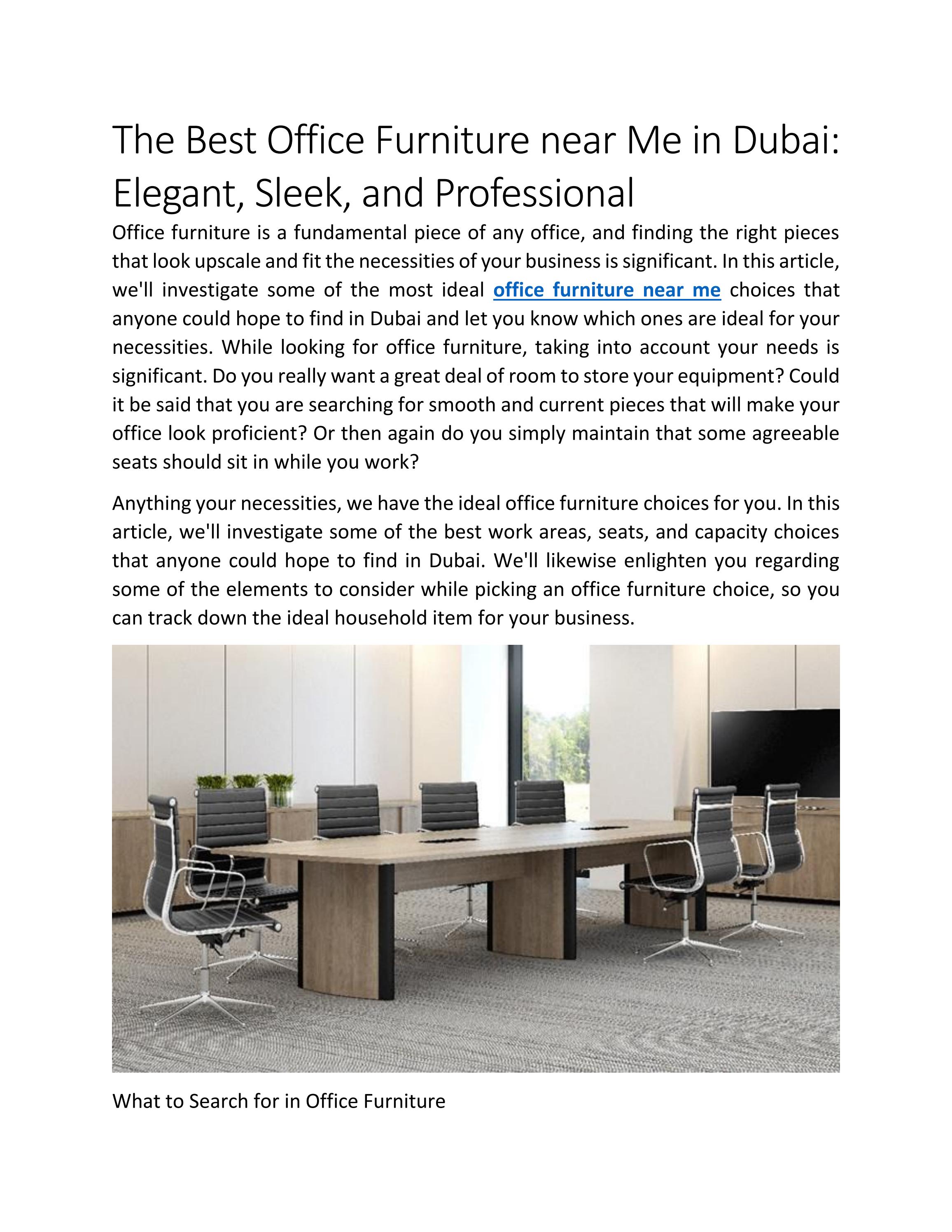 Additionally, The One offers a seamless shopping experience with their user-friendly website and prompt delivery services. Their dedicated customer support team is always available to assist you with any queries or concerns, ensuring a hassle-free furniture shopping experience.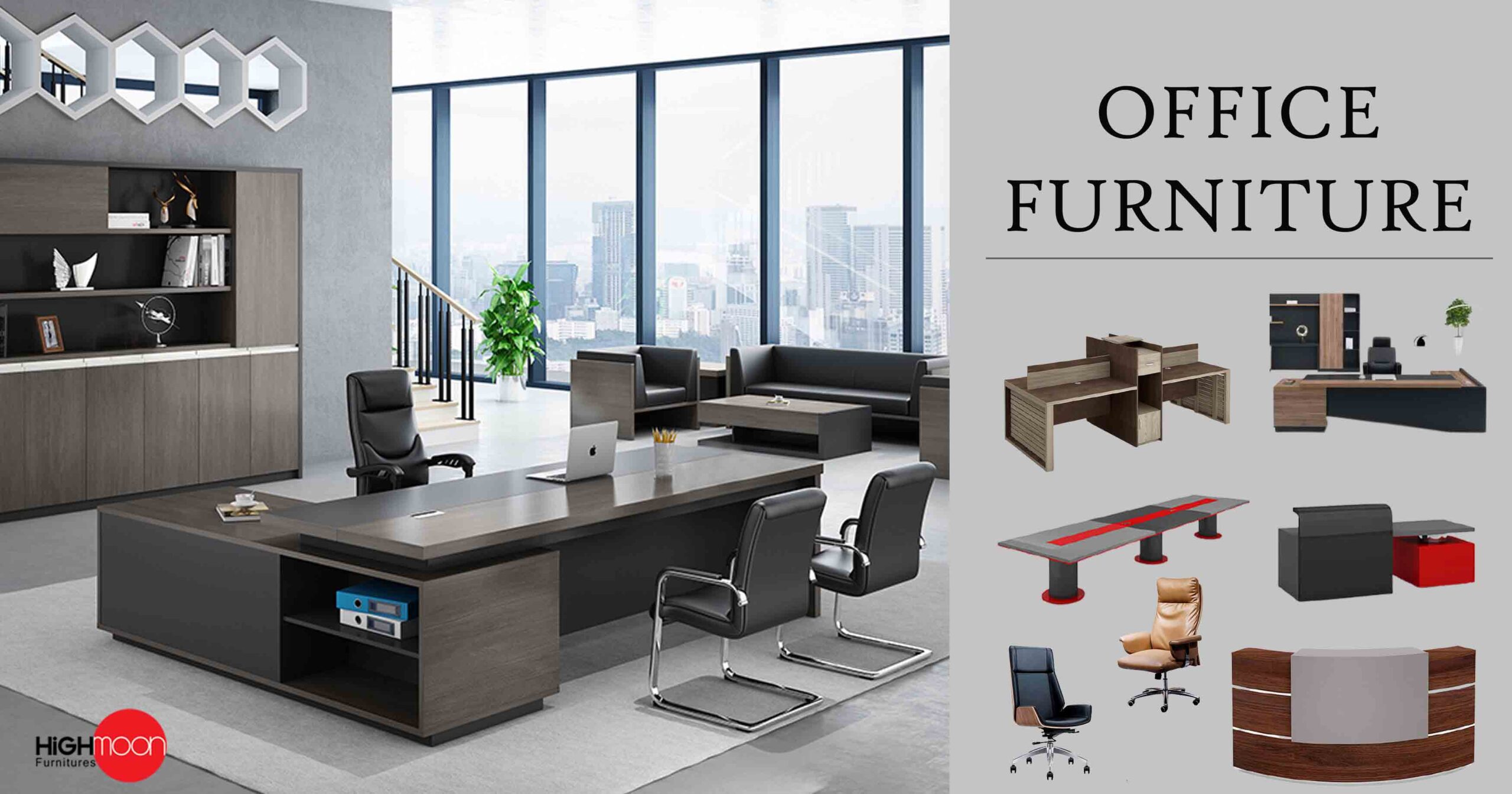 3. Designer Furniture Dubai: Make a Statement with Your Workspace
For those looking to create a truly unique and inspiring workspace, designer furniture is the way to go. Dubai is home to several high-end furniture stores that offer exclusive collections from renowned international designers. These designer pieces not only elevate the aesthetics of your office but also serve as a reflection of your brand's personality and values.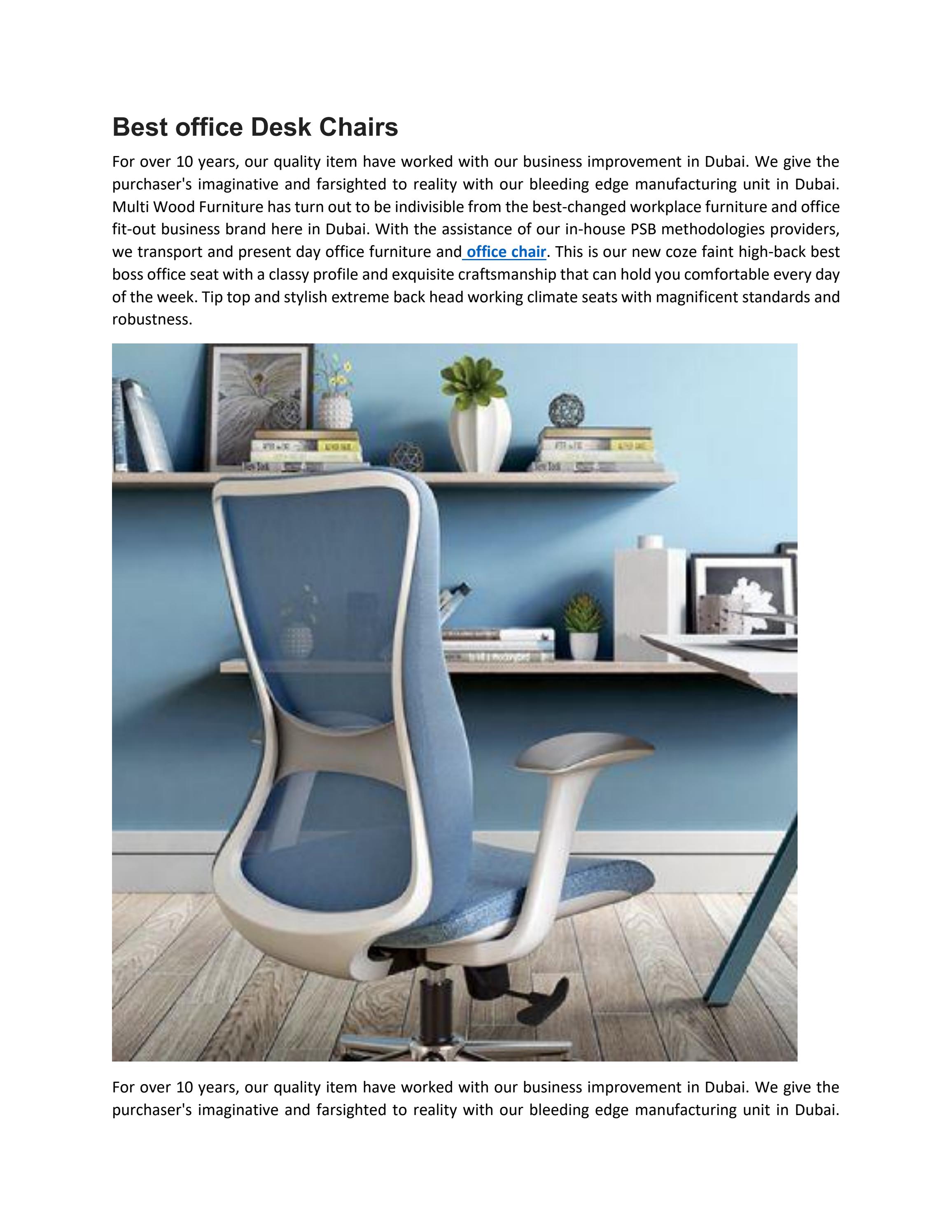 Some of the top designer furniture stores in Dubai include Poltrona Frau, Natuzzi, and Roche Bobois. These stores offer a wide range of office furniture, including executive desks, ergonomic chairs, and statement pieces that are sure to leave a lasting impression on your clients and employees alike.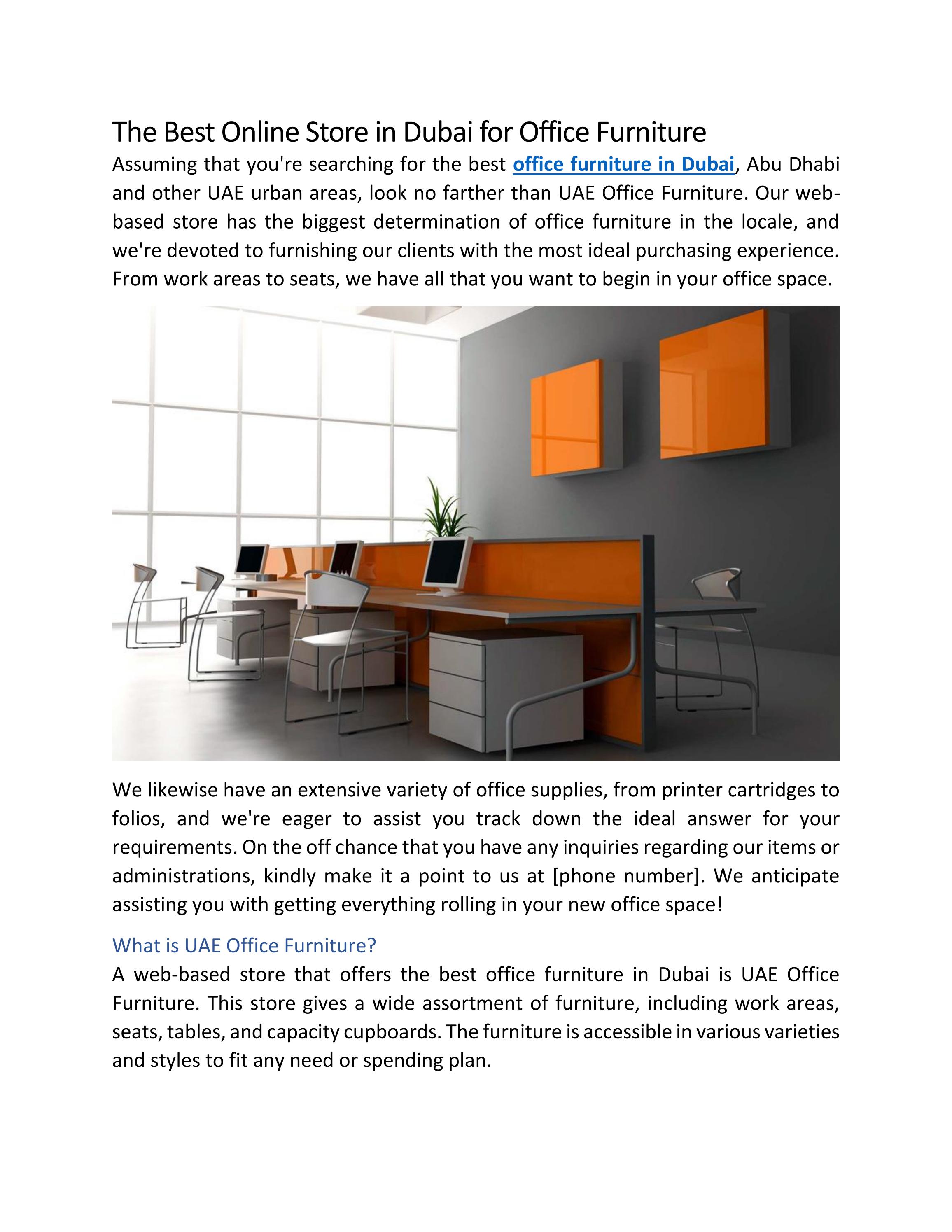 4. Living Room Furniture Dubai: Creating a Comfortable Breakout Area
Breakout areas are essential in any modern office space, providing employees with a comfortable and relaxed environment to unwind and recharge. Living room furniture plays a crucial role in creating a cozy and inviting breakout area. Dubai offers a plethora of options when it comes to living room furniture, ranging from plush sofas and armchairs to coffee tables and accent pieces.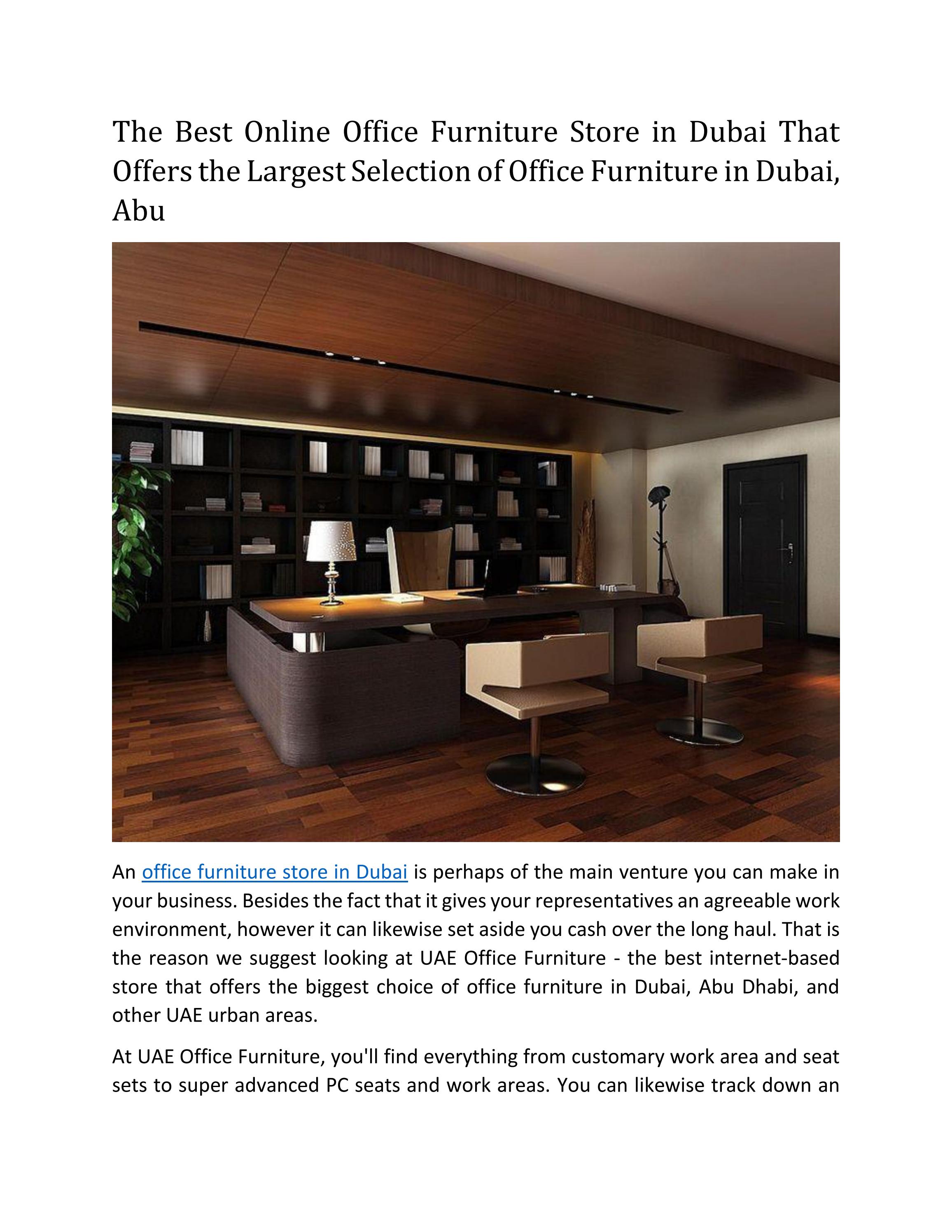 Some popular stores for living room furniture in Dubai include IKEA, Home Centre, and Pan Emirates. These stores offer a wide variety of styles and price points, ensuring that you can find the perfect pieces to create a welcoming and functional breakout area in your office.
5. Ergonomic Office Furniture: Prioritizing Employee Health and Well-being
Ergonomic office furniture is designed to promote proper posture and reduce the risk of work-related injuries, such as back pain and carpal tunnel syndrome. Investing in ergonomic furniture is essential for the health and well-being of your employees, ultimately leading to increased productivity and job satisfaction.
Some of the top ergonomic furniture brands available in Dubai include Herman Miller, Steelcase, and HÅG. These brands offer a range of ergonomic chairs, desks, and accessories that are specifically designed to support the natural movements of the human body, ensuring a comfortable and healthy work environment.
6. Sustainable Office Furniture: Eco-friendly Choices for the Conscious Consumer
With growing awareness about the impact of our choices on the environment, many businesses are now opting for sustainable office furniture. Dubai is home to several furniture stores that offer eco-friendly options, made from responsibly sourced materials and designed to minimize waste and energy consumption.
Some of the top sustainable furniture brands in Dubai include Green Furniture Concept, Vitra, and Knoll. These brands are committed to reducing their environmental footprint through innovative design and responsible manufacturing practices, making them an excellent choice for the environmentally conscious consumer.
7. Custom Office Furniture: Tailored Solutions for Your Workspace
Every office space is unique, and sometimes, off-the-shelf furniture may not meet your specific requirements. In such cases, custom office furniture is the ideal solution. Dubai boasts a thriving market for custom furniture, with several skilled craftsmen and manufacturers offering tailor-made solutions to suit your needs.
Some popular custom furniture providers in Dubai include Carpentry Dubai, Al Reyami Interiors, and Wood District. These companies offer bespoke furniture solutions, ranging from custom desks and chairs to storage units and partitions, ensuring that your office space is both functional and aesthetically pleasing.
Choosing the right office furniture is crucial for creating a productive and comfortable work environment. Dubai offers a wide range of options, catering to different budgets, styles, and preferences. Whether you're looking for luxury designer pieces, affordable yet stylish options, or eco-friendly furniture, this comprehensive guide has got you covered. So, go ahead and transform your office space with the best office furniture in Dubai!